Tools that are a must in plumbing kit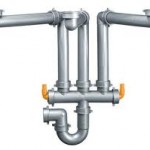 There are things that you can do by yourself while others require expertise and experts are to be called in. Plumbing is one such area. The complex work would need care and so better do not venture in an unknown territory by yourself. Yet there are plumbing works that can be done on our own and all one needs is general plumbing tools.
Such basic tools will help you avoid the need for calling the plumber for the smallest of the work. And if the plumber refuses to come over, you simply get stuck. To deal with such cases, it is good to have basic knowledge about plumbing and so no need to depend on anyone for the basic of problems. A tool kit and general plumbing knowledge would do the needful.
Before buying any tool kit, ensure that it contains three essential tools in it. The list includes pliers. Pipe vises and wrenches. These three a must in any general plumbing tool kit. The wrenches are available in a variety of types and most preferred is the adjustable type. Adjustable wrenches are flexible enough to fit in for different works. Pliers mostly come in three major types. The water pump pliers, the groove and the tongue types. The water pump pliers are hot picks among the three with great grip to hold. Pipe vices are used to cut down and thread pipes. Available in different sizes, vises are a must in the kit. The yoke and the chain type pipe vises are favourites in the market. The yoke vises are used for pipes that have jaws attached and chain ones for the pipes without jaws.