4 Questions Before Hiring Plumbers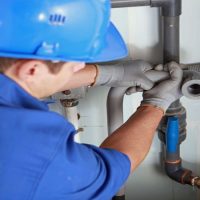 On average, plumbers earn about $28.21 per hour in the US. When you think about how much damage they prevent with their expertise, though, that's kind of low. Still, if you're looking to hire a plumber, make sure you ask these questions before you even think about hiring them.
Are They Licensed?
Every state has set requirements before one can get a plumbing license. Typically, though, someone needs to at least have a high school diploma or a GED before they take the vocational training and earn a certificate. Then they spend years as an apprentice—often about four to five years—to learn as much as they can about the trade before passing an exam that covers all their experience.
Do They Have Insurance?
When you hire plumbing services in Sherwood Park, AB, ask if their plumbers have a worker's compensation coverage and liability insurance. If an accident happens, you don't want to be liable for anything. A single medical bill or damage to your property could wipe out your savings. Protect yourself and make sure the plumber is protected, too.
What Do They Specialize in?
Pick a plumber who specializes in the kind of work you're hiring one for. Do you need specific work done? A general plumber should have enough skills to handle some of the basic work, and they can tell you if the problem is beyond them, then that's when you hire someone with specialized skills.
Do They Offer a Warranty?
Most reputable contractors are willing to offer warranty for their repairs and installations. They have no issue with the repairs or replacements if done within 30 days after the service has been provided. If the plumber refuses to do that, even for basic work, that's a red flag. Find someone else.
Do They Offer Emergency Services?
There's no telling when plumbing emergencies will happen. Hire a plumber who's available to take on the job, 24/7 Kingstree Plumbing.