Considerations for Sump Pump Installation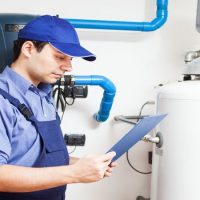 Basement flooding can be a time-consuming and expensive problem to fix. In many cases, it's better to take preventative measures, such as a sump pump installation in St Louis, to limit the risk of flooding in the first place. Taking a few things into consideration will make the decision a little bit easier.
The Basics
A sump pump keeps water away from the foundation through the use of a sump hole at the lowest point in the basement. Whenever water gets to this lowest point, the sump pump is activated, and it pumps the water away, keeping the basement from flooding.
Types of Pumps
One of the first steps in sump pump installation in St Louis is deciding which type of sump pump to get. The less expensive but also less powerful option is a pedestal pump that sits above the reservoir on a pedestal, which means it takes up space in the basement and is a bit noisy, but it is easier to service since it's above the surface and the motor will last longer since it isn't submerged. Those at greater risk of flooding may want to opt for a more powerful submersible pump, which is quieter, out of the way, and not as likely to get clogged as pedestal pumps.
Cost Considerations
The majority of homeowners spend somewhere between $660 and $1,700 for sump pump installation, although some people spend as little as $300 and others as much as $3,100. The type of pump, the type of floor, the location in the basement, the area where you live, and whether professional installation is included will all affect the overall cost.
Other Considerations
It's a good idea to spend a bit more to get certain accessories, such as filters to keep the pump from being clogged, reserve pumps in case of severe flooding, a sump pump alarm to notify the homeowner if the sump pump is getting overpowered, and a battery back-up for when a storm takes out the home's electricity. Getting an insurance rider to cover any damage due to the failure of the sump pump can also be beneficial.
Get free estimates by calling Classic Aire Care. They can handle all of your plumbing and heating needs, including excavation services and drain cleaning